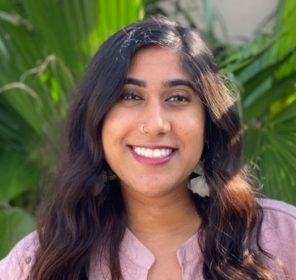 Tejal Patel, M.S.
Project Manager
Tejal manages WTEP's Pregnancy Pandemic Preparedness Project. In collaboration with the National Association of City and County Health Officials (NACCHO), the PPP Project will identify, evaluate, and address health-seeking behaviors and barriers to preconception and prenatal care during the COVID-19 pandemic. Findings from the PPP Project will be integral in developing outreach plans and recommendations for maternal health policy. As a former preschool teacher and current public health researcher, Tejal understands the importance of research, practice, and policy partnerships and dissemination.
Tejal's prior work has primarily focused on parenting, parent-child relationships, and children's mental and behavioral health. Tejal uses an interdisciplinary approach to address emerging issues in maternal and child health. Her previous experiences also include research and evaluation in juvenile delinquency and mentorship programming, school-based nutrition practices, neuro-imaging and adolescent risky behaviors, environmental civic engagement and advocacy among students, primary care capacity, oral healthcare, comprehensive sex education in Louisiana, opioid use, healthcare engagement and retention among people living with HIV, safe sleep practices and infant mortality, telehealth utilization during COVID-19, and utilizing equity-centered design thinking in community engagement to inform research prioritization.
Tejal received her Master's in Applied Developmental Psychology from the University of New Orleans and a Bachelor's in Psychology from Virginia Tech. She is currently pursuing her doctorate in Public Health at Tulane University.