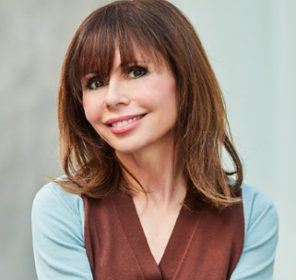 Heidi Murkoff
Founder
It all started with a baby and a book. Heidi Murkoff conceived the idea for What to Expect When You're Expecting during her first pregnancy, when she couldn't find answers in the books she turned to for much-needed advice. Just hours before delivering her daughter Emma, Heidi delivered the proposal for a pregnancy guide that would help other expectant parents sleep better at night. She was a mom on a mission — a mission that was only getting started.
Dubbed the "pregnancy bible," What to Expect When You're Expecting has more than 19 million copies in print. Now in its 5th edition, the book hit a publishing milestone in June of 2015 when it became the longest-running title of all time on The New York Times bestseller list, a record it still holds. USA Today has named it one of the most influential books in a quarter century — also reporting that it is read by 93 percent of women who read a pregnancy book.Other titles in the series include What to Expect the First Year (now in its 3rd edition), Eating Well When You're Expecting, What to Expect Before You're Expecting (a complete guide to getting pregnant, now in its 2nd edition), and What to Expect the Second Year, the must-have guide for parents of toddlers.The What to Expect books have sold more than 42 million copies and are published in 38 countries and in 34 languages. Heidi's What to Expect Kids' books include What to Expect When Mommy's Having a Baby and What to Expect When the New Baby Comes Home.
In 2005, Heidi expanded the What to Expect (WTE) brand online with WhatToExpect.com, which currently registers 60% of all U.S. pregnancies and features the #1 rated pregnancy app in the App Store. WhatToExpect.com is home to an active and engaged community of more than 20 million moms, with an average of 800,000 new posts each month, a new post every 3 seconds, and the average user visiting 14 times a month. The app offers personalized weekly content and videos by Heidi, and she also connects daily with her WTE family through Facebook, IG and Twitter. She personally answers questions from the WhatToExpect community in her weekly column, Help Me Heidi. In 2012, Heidi helped turn her iconic book into a feature film—"What to Expect When You're Expecting"—acting as executive producer. The film, a comedy that stars Cameron Diaz, Jennifer Lopez, Chris Rock, and Elizabeth Banks, features five couples whose intertwining lives are turned upside down by impending parenthood.
Heidi's passionate commitment to moms and babies led to the creation of the What to Expect Project, a nonprofit organization dedicated to helping moms in need expect healthy pregnancies, safe deliveries, and healthy babies. With a beautiful, culturally appropriate, accessible pregnancy guide (provided at no cost to at-risk moms), supportive curriculum, and training for health care professionals and staff in clinics, the WTE Project's groundbreaking Baby Basics—available in English, Spanish, and Chinese—has helped over 950,000 expectant moms-to-be and babies in need. The Project also partnered with the State Department to bring Baby Basics global, starting with Liberia and Bangladesh.
In 2013 Heidi and her husband Erik joined forces with the USO in Special Delivery, a program that celebrates and supports expectant military moms serving far from family and friends. Heidi has hosted over 160 Special Delivery baby showers – complete with lunch, games, gifts, a Q&A and lots of hugs – for over 30,000 military moms, both active duty and spouses, around the world, from Germany to Japan, Korea to Guam, Texas to Kansas, Alaska to North Carolina. Special Delivery Dad's Edition showers – also hosted by Heidi and featuring dinner, games, gifts, photos and hugs – celebrate military dads-to-be at bases around the world. Both the Mom and Dad showers offer parents not only the chance to connect with Heidi but with one another, helping them create vital local networks of friendship and support.
The What to Expect Project has expanded its mission globally to reach the most vulnerable moms around the world, to help ensure the care, information and support they need to have healthy pregnancies, safe deliveries, and healthy babies. A partnership with International Medical Corps supports life-saving maternal-child health care, midwife and community training, and the building of maternal-child health clinics in Africa and the Middle East. Through the Project's work with International Medical Corps, Heidi, in her role as First Responder, has joined their team of humanitarian health care workers in the field in some of the world's most devastated areas (including South Sudan, Sierra Leone, the Somali and Syrian borders). The Project also partners with diverse organizations – in the U.S. and globally – to advance maternal health. In her many visits to the field, Heidi has hugged her way through dozens of villages, training facilities, and refugee camps.
In 2015, The What to Expect Project debuted the social campaign #BumpDay with founding partners International Medical Corps, 1,000 Days and the United Nations Foundation Universal Access Project and in collaboration with WhatToExpect.com. The campaign celebrates beautiful bumps and healthy pregnancies around the world, while raising awareness about the urgent need to end maternal deaths and to advocate for improved maternal-health care both in the U.S. and globally. #BumpDay encourages moms to post photos of their bumps while sharing messages of support for moms – and has generated hundreds of thousands of posts on Facebook, Twitter and Instagram, including from such influencers as Olivia Wilde, Christy Turlington, Coco Rocha, Brooklyn Decker, Pharrell Williams, TV personalities Sarah Haines, Jessica Moore, and Jenni Pulos, as well as numerous policymakers. The total reach across all social platforms for #BumpDay 2018 was over 33 million. In 2020, #BumpDay received mentions from Forbes and the Rickey Smiley Morning Show, and numerous leading domestic and global health entities and organizations were actively involved, among them the U.S. Centers for Disease Control and Prevention, March of Dimes, the National Partnership for Women & Families, the National Association of County Health Officials, mothers2mothers, Project Hope, the Hunger Project,Pathfinder International, and Jhpiego.
In 2020, Heidi and Emma began the podcast, What To Expect, with iHeart Radio to help navigate the entire journey, from conception, to pregnancy, to the first years of parenting. The podcast breaks down the biggest questions, interviews famous moms and covers the issues from healthcare to childcare to maternal leave. Guests who have come on the What To Expect podcast include Tia Mowry, Sen. Kirsten Gillibrand, Sara Haines and Amy Schumer.
As the Project's founder, Heidi regularly advocates for maternal and child health, speaking and making media appearances with many leaders in the U.S. Congress on issues such as the ACA, COVID-19, Zika (and other health emergencies), family leave and childcare, and a range of maternal and child health legislation, including policies impacting military families. She works closely with the CDC and other public health entities and sits on the board of the 2020 Collaborative.
In 2011, TIME magazine named Heidi one of the 100 Most Influential People in the World. She has also been honored by Smithsonian Associates with the prestigious John P. McGovern Award, which recognizes contributions to American families, and has been inducted into the Books For a Better Life Hall of Fame. Heidi has appeared on hundreds of television and radio shows, including the TODAY show, Good Morning America, CNN, The Early Show, Oprah, BBC Breakfast, Good Morning Australia, and was featured on CBS Sunday Morning.